A terminographic definition model for a glosary of mexican virreinal liturgical documents
Keywords:
terminographic definition, terminological definition model, terminology of liturgic music, Musicat Project
Abstract
Given that many different types of definitions are described in the literature related to terminography, even those common to lexicography, and also that, potentially, any of these models could be used to construct definitions of concepts of the liturgical music area, this work aims at deepening in which the most frequent types are, as well as their possible combinations, in order to offer a useful model to editors who collaborate in academic projects in which lexicon is defined, an which are, in principle, related to the area of liturgical music. After formalizing a suitable conceptual framework for this article and the addressed problematic, the steps that were followed in this work in a case study which evaluates and classifies the definitions done by some specialists are presented. Taking this analysis foundation into account, a proposal is set which, within the area of liturgical music, works as an effective definitory model. Lastly, an explanation is provided on how the model was put to the test and how its effectiveness was evaluated, as well as the adaptations for its possible implementation.
Downloads
Download data is not yet available.
References
Aguilar, C. A. (2008). Análisis lingüístico de definiciones en contextos definitorios. México: Universidad Nacional Autónoma de México.
Alfaro Asins, C., Marcos Alonso, C., Otero Morán, P. y Grañeda Miñón, P. (2009). Diccionario de numismática. Madrid: Ministerio de Educación, Cultura y Deporte.
Azevedo Delvizio, I. (2018). Directrices para la elaboración de definiciones terminológicas: una aplicación a los términos del turismo. Revista Digital Internacional de Lexicología, Lexicografía y Terminología, 1. Recuperado de: https://revistas.unc.edu.ar/index.php/ReDILLeT/article/view/22220/21820
Baca Ibarra, I., Sierra Martínez, G. E., Aguilar, C. A., y Barceló, A. (2006). Estudio del modelo aristotélico aplicado al análisis y clasificación de definiciones en corpus lingüísticos especializados. Corpus, 1(1), pp. 1-10.
Bergenholtz, H., y Nielsen, S. (2013). The treatment of culture-bound items in dictionaries. En Gouws, R., Heid, U., Schweickard, W. y Wiegand, H. E. (Eds.), Dictionaries. An International Encyclopedia of Lexicography: Supplementary Volume: Recent Developments with Focus on Electronic and Computational Lexicography (pp. 469-481). Berlín: Walter de Gruyter.
Bergenholtz, H., y Tarp, S. (1995). Manual of specialised lexicography. Amsterdam/Philadelphia: John Benjamins Publishing Company. DOI: https://doi.org/10.1075/btl.12
Cabré i Castellví, M. T. (1999). Terminología y Lingüística: la teoría de las puertas. Estudios de Linguistica Del Español, 16. Recuperado de: http://elies.rediris.es/elies16/Cabre.html
Casal, J., y Mateu, E. (2003). Tipos de Muestreo. Revista de Epidemiología y Medicina Preventiva, 1, pp. 3-7.
Dubuc, R. (1999). Manual práctico de terminología. Santiago: Unión latina/RIL editores.
García de Quesada, M., y Montero Martínez, S. (2003). Hacia una gramática de la definición terminográfica. En Gallardo San Salvador, N. (Ed.), Terminología y traducción: Un bosquejo de su evolución (pp. 243-254). Granada: Editorial Atrio.
Haensch, G., y Lothar, W. (1982). La lexicografía. De la lingüística teórica a la lexicografía práctica. Madrid: Gredos.
Kipfer, B. A. (2013). Glossary of lexicographic terms. En Jackson, H. (Ed.), The Bloomsbury Companion to Lexicography (pp. 391-406). Londres/Nueva Delhi/Nueva York/Sidney: Bloomsbury Publishing.
Lara Ramos, L. F. (1994). Tipos de definición lexicográfica en el Diccionario del Español de México. In Garza Cuarón, B, Pascual, J. A. y Alonso González, A. (Eds.), Actas del II Encuentro de Filólogos y Lingüistas de España y México (pp. 153-164). Salamanca: Universidad de Salamanca/Junta de Castilla y León, Consejería de Cultura y Turismo.
Lara Ramos, L. F. (1996). Por una redefinición de la lexicografía hispánica. Nueva Revista de Filología Hispánica, XLIV(2), pp. 346-364. DOI: https://doi.org/10.24201/nrfh.v44i2.1942
Lara Ramos, L. F. (1997). Teoría del diccionario monolingüe. México, D.F.: El Colegio de México.
Luna Traill, E., Vigueras Ávila, A., y Baez Pinal, G. E. (2005). Diccionario básico de lingüística. Mexico, D.F.: Universidad Nacional Autónoma de México/Instituto de Investigaciones Filológicas: Centro de Lingüística Hispánica.
Martínez de Sousa, J. (2009). Manual básico de lexicografía. Gijón: Ediciones Trea.
Padilla, C., Maicas, R., y Cabrera, P. (2002). Diccionario de materiales cerámicos. Madrid: Ministerio de Educación, Cultura y Deporte.
Porto Dapena, J. Á. (2002). Manual de técnica lexicográfica. Madrid: Arco Libros.
Real Academia Española. (1726). Diccionario de la lengua castellana, en que se explica el verdadero sentido de las voces, su naturaleza y calidad, con las phrases o modos de hablar, los proverbios o refranes, y otras cosas convenientes al uso de la lengua [...]. Compuesto por la RAE. Madrid: Imprenta de Francisco del Hierro.
Rey-Debove, J. (1999). La linguistique du signe: une approche sémiotique du langage. Paris: Armand Colin.
Seminario de Música en la Nueva España y el México Independiente. (2009). MUSICAT - Seminario de música en la Nueva España y el México independiente. Recuperado de: http://musicat.unam.mx/
Valero Doménech, E. (2007). Análisis de las definiciones y elaboración de un patrón definitorio del grupo de términos 'defectos del producto cerámico'. Barcelona: Universitat Jaume I.
Valero Doménech, E., y Alcina Caudet, M. (2015). Aspectos críticos de la formalización de características conceptuales en la definición terminográfica. Terminàlia, 11(11), pp. 30-44. DOI: https://doi.org/10.2436/20.2503.01.75
Wikimedia Commons. (2019). Wikipedia, la enciclopedia libre. Wikipedia. Recuperado de: https://es.wikipedia.org/wiki/Wikipedia:Portada
Wüster, E. (1998). Introducción a la teoría general de la terminología y a la lexicología terminológica. Barcelona: Institut Universitari de Lingüística Aplicada. Universitat Pompeu Fabra.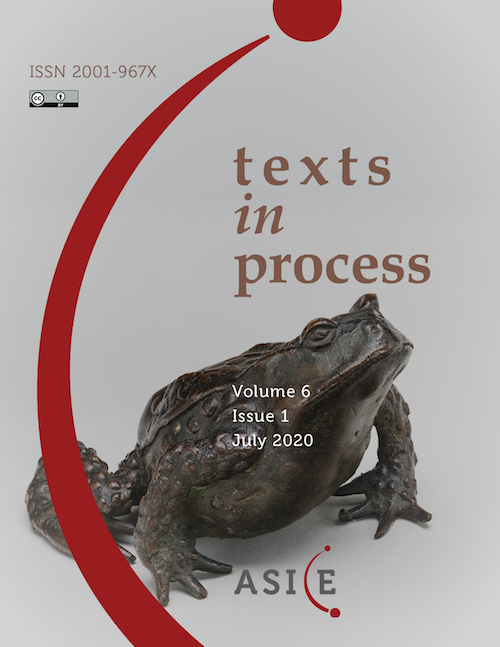 How to Cite
Molina Salinas, C., Ruiz Caballero, A., & Hernández Pech, S. (2020). A terminographic definition model for a glosary of mexican virreinal liturgical documents. Texts in Process, 6(1), 96-117. https://doi.org/10.17710/tep.2020.6.1.6molinaruizhernandez
Copyright (c) 2020 Claudio Molina Salinas, Antonio Ruiz Caballero, Salvador Hernández Pech
This work is licensed under a Creative Commons Attribution 4.0 International License.
Texts in Process (TEP) is a non-commercial open-access scholarly journal governed by a Creative Commons Recognition 4.0 International license. It follows a full and unrestricted open access, without charges or fees for shipping, reviewing, processing and publishing articles. Users can read, download without registering, distribute, print or link the complete texts of numbers and articles, without the permission of the editors or authors. There is also no charge to publish (APCs), being applicable to the entire editorial process. The authors retain their intellectual rights at all times.
ASICE-EDICE Programme has always believed that non-commercial, open, unlimited and unrestricted access to specialized academic publications is a vehicle for academic freedom and scientific rigor. It adheres and shares the Declaration of Mexico and DORA to guarantee the protection of academic and scientific production in Open Access.