Routine formulas as a tool for politeness in the sociolinguistics interview
An application to the discourse of speakers over 54 years old
Yazmín M. Carrizales

Universidad Autónoma de Nuevo León

Lidia Rodríguez Alfano

Universidad Autónoma de Nuevo León
Keywords:
conventional politeness, pragmatics, phraseme, routine politeness formulae
Abstract
The present study analyses the discourse produced by 36 informants older than 54, who constitute three groups differentiated by their educational level within the corpus El habla de Monterrey-PRESEEA (2006-2010). On the basis of a definition of "pragmateme" as a lexical unit, which combines two full semantic units and is determined by a high degree of pragmatic and sociocultural restriction, we describe its functioning in greeting acts and gratitude expressions within the specific situation of the sociolinguistic interview. The theoretical and methodological framework includes, among others, the following approaches: Albelda (2004), Areiza y García (2003), Arundale (2010), Austin (1962), Barrios (2010), Blanco (2010), Bravo (2005), Briz (1998), Albelda et al. (2014), Brown y Levinson (1987), Corpas (1996), Coseriu (1988), Escandell (1995), López (1994), Haverkate (1994), Garcés (2002), Mel'cuk y Zholkovsky (1970), Moscovici (1979), Pêcheux (1978), Pérez (2008), Rodríguez (2004), Rodríguez y Duboraw (2003), Schegloff (2007), Searle (1975, 1990), and Wittgenstein (1958). The results show that the usage of politeness pragmatemes is a useful strategy on the speaker positive face threatening, and it is more frequent in the interviewer's discourse rather than in the interviewed's one.
Downloads
Download data is not yet available.
References
Adam, J. M. (1993). Le texte et ses composantes. http://semen.revues.org/4341
Albelda, M. (2004). Cortesía en diferentes situaciones comunicativas. La conversación coloquial y la entrevista sociológica semiformal. En Bravo, D. y Briz, A. (eds.) Pragmática sociocultural. Estudios sobre cortesía en español (pp. 109–134). Barcelona: Ariel.
Albelda, M., Briz, A. Cestero, A. M., Kotwica, D. y Villalba, C. (2014). Ficha metodológica para el análisis pragmático de la atenuación en corpus discursivos del español (Es.por.atenuación). Oralia. Análisis del discurso oral, 17, pp. 7–62.
Alvarado, M. B. (2005). Las fórmulas rutinarias en la enseñanza de ELE. En Actas del XVI Congreso Internacional de la Asociación del Español como lengua extranjera (ASELE). La Competencia Pragmática o la Enseñanza del Español como Lengua Extranjera (pp.133–141). Oviedo: Ediciones de la Universidad de Oviedo.
Areiza, R. y García, A. D. (2003). ¿Qué significa saludar? La perspectiva no etnocentrista de la cortesía: Identidad sociocultural de las comunidades hispanohablantes, I Coloquio Programa EDICE (pp. 71–85). Estocolmo: Universidad de Estocolmo.
Arundale, R. (2010). Constituting face in conversation: Face, facework, and interactional achievement. Journal of Pragmatics, 42 (8), pp. 2078–2105.
http://dx.doi.org/10.1016/j.pragma.2009.12.021
Barrios, M. A. (2010). El dominio de la funciones léxicas en el marco de la teoría sentido-texto. Estudios de Lingüística del Español, 30, pp. 1–477.
Blanco, X. (2010). Los frasemas composicionales pragmáticos. En Mogorrón, P. y Mejri, S. (Eds.) Idiomaticité, opacité et traduction (pp. 19–35). Alicante: Universidad de Alicante.
Bravo, D. (2005). Estudios de la (des)cortesía en español: categorías conceptuales y sus aplicaciones a corpus orales y escritos. Buenos Aires: Dunken.
Brown, P. y Levinson, S. C. (2002). Politeness: some universals in language usage. Cambridge: Cambridge University Press.
Briz, A. (1998). El español coloquial en la conversación. Esbozo de pragmagramática. Barcelona: Ariel.
Briz, A. y Albelda, M. (2010). Aspectos pragmáticos. Cortesía y atenuantes verbales en las dos orillas a través de muestras orales. En Milagros, A. y Enguita, J. M. (Eds.) La lengua española en América: normas y usos actuales (pp. 237–260). Valencia: Universidad de Valencia.
Cabrera, M. (2001). Historia, lenguaje y teoría de la sociedad. Madrid: Frónesis Cátedra Universitat de València.
Corpas, G. (1997). Manual de fraseología española. Madrid: Gredos.
Coseriu, E. (1988). Competencia lingüística. Elementos de la teoría del hablar. Madrid: Gredos.
Escandell, M. A. (1995). Cortesía, fórmulas convencionales y estrategias indirectas. Revista Española de Lingüística, 25(1), pp. 31–66.
Félix-Brasdefer, J. C. (2008). Politeness in Mexico and the United States: A Contrastive Study of the Realization and Perception of Refusals. Amsterdam: John Benjamins.
http://dx.doi.org/10.1075/pbns.171
Fiume, A. (2006). La definición de las fórmulas rutinarias en los diccionarios para la enseñanza del español como lengua extranjera. En Actas del XVI Congreso Internacional de la Asociación del Español como lengua extranjera (ASELE) (pp. 268–279). Oviedo: Ediciones de la Universidad de Oviedo.
Garcés, M. P. (2002). La repetición. Formas y funciones en el discurso oral. Archivo de filología aragonesa, 59-60 (1), pp. 437–456.
Haverkate, H. (1994). La cortesía verbal. Estudio pragmalingüístico. Madrid: Gredos.
López, H. (1994). Metodología de investigación lingüística. Madrid: Colegio de España.
Mel'cuk I. A. y Zholkovsky, A. K. (1970). Towards a Functioning Meaning-Text Model of Language. Linguistics, 57, pp.10–47.
Moscovici, S. (1979). El Psicoanálisis, su imagen y su público. Buenos Aires: Huemul.
Pêcheux, M. (1978). Hacia el análisis automático del discurso. Madrid: Gredos.
Pérez, J. (2008). Las prácticas discursivas institucionalizadas. Lingua Americana, 22, pp. 95–110.
Penadés, I. (2001). Las fórmulas rutinarias: su enseñanza en el aula de ELE. Carabela: Modelos de uso de la lengua española, 50 (pp. 83–102). Madrid: SGEL.
Rodríguez, L. (2004). Polifonía en la argumentación. Perspectiva interdisciplinaria. Los múltiples sentidos de un discurso sin fin. México: INAH-UNAM-UANL-Conarte.
Rodríguez, L. y Durboraw, C. A. (2003). La co-construcción del significado en la noción 'crisis' las entrevistas de 'El habla de Monterrey'. En Koike, D. A. (Ed.) La co-construcción del significado en el español de las américas: acercamientos discursivos (pp. 71– 111). Otawa: Legas.
Ruiz, L. (2000). Un enfoque didáctico de la fraseología española para extranjeros. Quaderns de Filologia. Estudis Lingüístics, 5, pp. 259–276.
Wittgenstein, L. (1958). Philosophical Investigations. Oxford: Blackwell.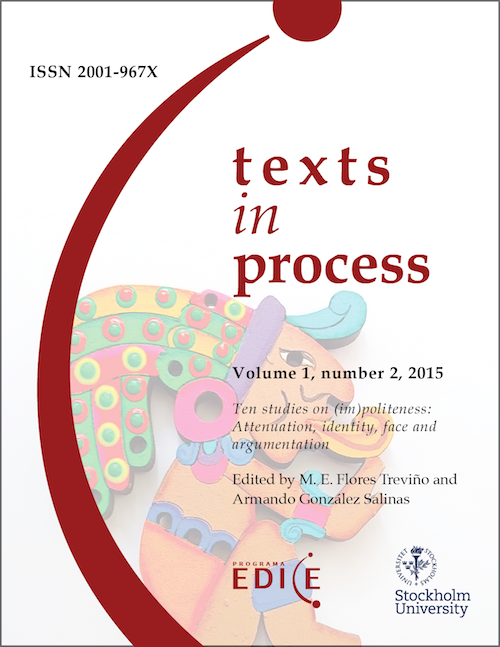 How to Cite
Carrizales, Y., & Rodríguez Alfano, L. (2015). Routine formulas as a tool for politeness in the sociolinguistics interview. Texts in Process, 1(2), 360-383. https://doi.org/10.17710/tep.2015.1.2.6ycarrizales
Copyright (c) 2015 Yazmín M. Carrizales, Lidia Rodríguez Alfano
This work is licensed under a Creative Commons Attribution 4.0 International License.
Texts in Process (TEP) is a non-commercial open-access scholarly journal governed by a Creative Commons Recognition 4.0 International license. It follows a full and unrestricted open access, without charges or fees for shipping, reviewing, processing and publishing articles. Users can read, download without registering, distribute, print or link the complete texts of numbers and articles, without the permission of the editors or authors. There is also no charge to publish (APCs), being applicable to the entire editorial process. The authors retain their intellectual rights at all times.
ASICE-EDICE Programme has always believed that non-commercial, open, unlimited and unrestricted access to specialized academic publications is a vehicle for academic freedom and scientific rigor. It adheres and shares the Declaration of Mexico and DORA to guarantee the protection of academic and scientific production in Open Access.